Overflow Hotel Options
Due to the limited availability of rooms at the Estrel, we have assembled a list of nearby venues for you to consider. Please be aware that while some of these hotels and hostels may be aware of Eurofurence taking place, we have no special agreement with them whatsoever and any contractual obligations are only between you and the respective venue you booked. So please make sure to read their terms and conditions.
Also, if there are any inaccuracies, or if you're being told the venue is booked out, let us know.
Eurofurence is currently trying to arrange for transportation between some of these venues and the Estrel Convention Center. If such a shuttle takes place, we will let you know — but at this point, we can neither tell which venues will be affected nor the times this service may operate. Count on getting from A to B by yourself for the time being.
This information was last updated 18 January 2017.
---
Last outbound trains from Sonnenallee
The last trains to leave Sonnenallee on weekdays are 41↻ at 01:19 and 42↺ at 01:20. Friday and Saturday nights have a night service running every thirty minutes. If you miss the last train out, you can take night buses or a taxi.
---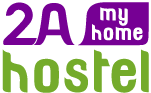 Saalestraße 76

Modern hostel, opened in 2011 with 46 rooms varying from 1-bed to 8-bed accomodation.


+ Neukölln
S41 ↻ / 171 (daytime) / N79 (nighttime)
1.3 km from the Estrel
---




Buschkrugallee 60-62


151 Hotel rooms, of which are 36 Apartments with small kitchen
Franz-Körner-Straße
171 (daytime); S41 ↻

S

Neukölln and night bus N7 (alternatively, a 1.5 km walk from

S

Neukölln)
3 km from the Estrel
---




Hermannstraße 214-216

The 4-star Mercure Berlin Tempelhof Airport is situated at the historic Tempelhof Airport. The hotel has its own parking facilities.
216 rooms and suites
Boddinstraße
Rooms starting from €78 per night
2.8 km from the Estrel
---




Sonnenallee 6 / Hermannplatz

Best option if you don't like walking or taking a taxi — the hotel is connected by the 24-hour 41 bus line, departing from Ziegrastr. right in front of the Estrel.
70 airconditioned rooms
Hermannplatz/Sonnenallee
Rooms starting from €50 per night
2.9 km from the Estrel

---





Jahnstraße 13



57 rooms
171 (daytime) - Grenzallee/Jahnstraße
Situated nearby Centro Park Hotel (300 m)

---





Silbersteinstraße 30-34



N79 (nighttime) ; Eduard-Müller-Platz
Situated halfway between stations Hermannstraße and Neukölln.
Single €39, Double €49, Triple €69, Breakfast €9 pp.

---

This list can of course only be a brief selection of what's available. The more you go toward the city center and the longer you fancy to travel, the better your choice becomes, of course. If neither of the options listed here feel right for you, feel free to check out the usual booking portals or visit the Berlin web site.
Also, we'd be hard pressed to include private accomodation or flats to rent here. It's a bit of a sport to put out flats for rent on portals like airbnb in Berlin; however keep in mind that it is unlawful to rent out accomodation without having a proper license issued by the city administration. So tread with caution and give those offers a good look before considering them.

And if you choose to use public transport for getting back and forth between your accomodation and the con, a 7-day VBB bus/train pass is €29.50; or alternatively you can get a 5-day Berlin WelcomeCard that gives you extra discounts on various attractions. For accomodation that is just a few stops away from the Estrel, you can also purchase a set of 4 short-distance tickets. Check www.bvg.de for further details, please.